Crystal Lake, IL Real Estate Lawyer
The real estate market in Illinois provides countless opportunities for residential and commercial real estate investments. Many people believe that to sell or buy a home in the Crystal Lake area, they simply need a real estate agent. While that is true, most real estate agents are not versed in Illinois real estate law. An experienced Illinois real estate attorney can provide insight into the market that protects your assets.
Whether you are considering a residential purchase or a business, the selling and buying of property are legal transactions. Protect these investments by obtaining an Illinois real estate lawyer before you decide to buy or sell land, property, or other types of real estate.
Illinois Attorney for Real Estate Transactions
At McKenna Law, PC, our team is a full-service law firm with years of experience assisting clients in complex real estate transactions and can apply this experience to your situation. Whether you are facing a residential or commercial real estate transaction or need legal guidance as you navigate contract negotiations for a new construction or lease agreement, we can help.
Real Estate Services We Provide
Attorney McKenna and our team at McKenna Law, PC, offer comprehensive legal representation for a wide range of real estate-related issues in Crystal Lake, Illinois, including:
Residential real estate transactions. Buying a new home can be just as frustrating as it is exciting. Still, an experienced Illinois real estate lawyer can help you make a more informed decision on your next residential real estate purchase. Our team can arrange appraisals and inspections, recommend local service providers, and help you approach each phase of the purchasing process with confidence. We can also provide valuable legal guidance if you intend to sell your home in the near future.
Commercial real estate transactions. Business owners often invest in commercial real estate to grow their operations and serve their customers more efficiently. We work with many other local business owners, and our team has a firm understanding of the local commercial real estate market. Buying or selling commercial real estate involves many details not present in residential real estate transactions. An Illinois real estate attorney can provide helpful advice and valuable legal services that ensure you get the best possible return on your investment.
New construction projects. Building a new structure in Crystal Lake, Illinois requires meeting specific regulations and adhering to applicable laws. Depending on the type of structure you intend to build, you could require various zoning and construction permits, and the procedural steps required for securing approval for new construction can be exhausting. Our team at McKenna Law, PC, can help you understand the legal requirements your new construction project entails so your project can proceed uninterrupted by legal red tape.
Commercial and residential lease agreements. Leasing property can provide more flexibility than purchasing. A lease will include clearly defined rights and responsibilities for all signing parties for the duration of the lease. While this may sound straightforward, it is vital for both the leasing party and the lessee to fully understand every element of the lease agreement. An Illinois real estate attorney can provide valuable contract review.
Easements. An easement is any legal interest in a property that allows one party to use the real property belonging to another party. Easements are often complex and contentious issues. Because they involve using another's property without any ownership of it, being on the right side of the law is crucial.
Options and rights of first refusal. An option is a legal right to purchase a property at a fixed price for a predetermined period. The right of first refusal is a legal right to enter a contract with another party before anyone else may enter the contract. At McKenna Law, PC, we can guide you as you navigate these often-complex issues in Illinois real estate law.
Real estate financing and loan agreements. Any real estate financing will involve a significant amount of paperwork. Therefore, you need an experienced attorney to closely review all the financial agreements you will need to sign for your transaction to proceed.
Our team can help with these and many other real estate issues that your real estate agent may not be able to address.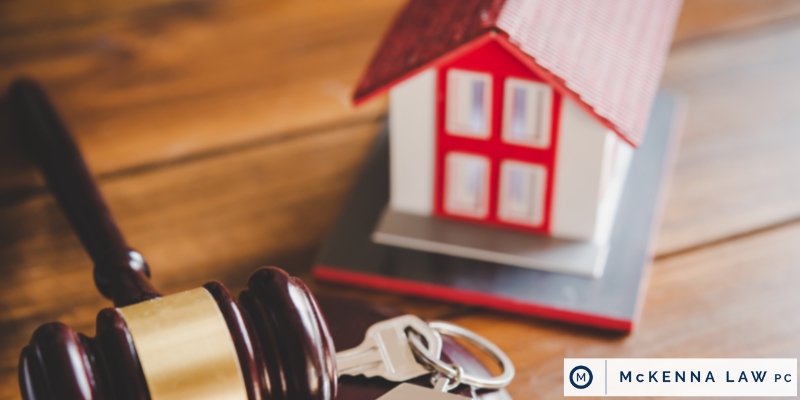 Why Should I Hire a Crystal Lake, Illinois Real Estate Attorney?
Many people believe their real estate agent is responsible for providing all the information they require to complete a real estate transaction safely. Unfortunately, the reality is that most real estate agents have professional and ethical inhibitions that sometimes prevent them from fully disclosing all the information a client wants to have about a transaction. Additionally, while most real estate agents are highly versed in the contracts and legal red tape real estate transactions involve, they are not attorneys. They will not be able to offer the deep legal insight you could expect from an experienced Illinois real estate attorney.
Our firm also has extensive experience handling all types of legal contracts. When you choose our team at McKenna Law, PC, to represent you in a real estate transaction, our legal guidance can form a protective layer over the issue, helping you make a more informed decision with confidence. We have a keen understanding of the real estate markets in the area and will apply this knowledge to your transaction. We routinely assist our clients in drafting, reviewing, and amending contracts for all types of agreements.
Most people enter into real estate transactions only a handful of times in their entire lifetimes. We do it every day, and have been protecting our clients' interests for more than 30 years.
We rely on our many years' experience to protect and advance our clients' rights and interests in all manner of real estate transactions: residential and commercial purchases and sales, lease transactions, and complex real estate interests.
Our Real Estate Transactions Practice Includes:
Buying and Selling a Home
There are many reasons to hire McKenna Law to represent you when selling or buying a home. The typical real estate sales contract imposes numerous obligations on both seller and buyer; obligations that must be met on time if the deal is to close. Reports must be ordered. Documents must be prepared. Contingencies must be met and rights must be preserved. And the negotiations do not necessarily stop once the contract is signed. Attorney approval and inspection issues must be identified and resolved. Even after these items are resolved, other concerns may need to be addressed as the transaction proceeds. Title defects may be identified in the title commitment or survey. A well and septic report or municipal inspection may identify hidden problems. The bank appraisal or inspection might raise yet additional concerns.
We know that even a "simple" residential real estate transaction can take on a life of its own. We have the know-how and experience that you need to advise and steer you through the process to obtain the result that is best for you.
Commercial Real Estate Transactions
New Construction
Commercial and Residential Leases
Acquiring and Granting Easements
Options and Rights of First Refusal
Financing and Loan Transactions
Contact Our
Crystal Lake Real Estate Attorneys

Today

While real estate agent understands the ends and outs of home buying and selling, their expertise is not in the legal transactions that are so crucial to keeping buyers and sellers safe. Ultimately, any real estate transaction can be a long-term investment that affects your life, family, or business. Hiring an experienced Illinois real estate attorney allows you to do just that.

If you are ready to discuss the benefits of legal representation for an upcoming real estate transaction in the Crystal Lake, Illinois, area, contact our team at McKenna Law, PC, to schedule a consultation with an experienced Illinois real estate lawyer. We will review the details of your impending real estate transaction and let you know how our team can assist you.