Crystal Lake, IL Land Use and Zoning Lawyer
At McKenna Law, PC, we offer client-focused legal counsel for various legal matters involving land use and zoning laws in Illinois. Our team has provided legal counsel to clients in the area for many years across various projects. As a result, we have extensive experience navigating the area's land use and zoning laws. If you need to obtain a zoning permit, have an official property map redrawn, or need to reclassify your property's zoning classification, we can help.
Zoning laws are notoriously complicated, and that is especially true in Crystal Lake, Illinois. However, time is also precious when negotiating zoning issues. The response deadline for any formal action starts as soon as one party receives a summons or complaint. Unfortunately, many people do not realize how beneficial it is to start the process with a knowledgeable attorney.
Legal Counsel for Crystal Lake, Illinois, Land Use and Zoning Matters
Attorney Terrence McKenna and our team at McKenna Law, PC, understand that the average person would likely find Crystal Lake, Illinois land use and zoning confusing if they attempted to navigate them independently. Making land use and zoning mistakes can lead to fines, business interruptions, and other costly penalties. Our goal is to help our clients navigate these issues effectively and secure the land use rights and zoning approvals they need for their homes and businesses.
Why Should I Hire an Illinois Land Use and Zoning Lawyer?
While it is technically possible to manage some land use and zoning-related matters without legal counsel, these issues are often much easier to approach with reliable legal representation. Whatever your unique situation entails, your Illinois land use and zoning attorney can carefully review the details of your situation and help you understand the legal mechanisms involved more clearly.
At McKenna Law, PC, we believe in client-focused legal representation. No two land use or zoning matters are exactly alike, and every property owner has unique concerns regarding these types of legal issues. We take time to carefully evaluate your needs and interests, helping you navigate the land use and zoning issues you currently face with confidence.
Zoning Reclassification
When a property owner obtains zoning rights for a property, they must have the property classified appropriately for the intended use of the property. Illinois zoning laws include various classifications, and the property owner needs to adhere to zoning classification closely to avoid fines and other penalties. For example, if a business owner has commercial property and is rezoning it for a particular type of operation, attempting to use the property for another function can lead to fines and other penalties, potentially disrupting business operations significantly.
Zoning reclassification is complex in Crystal Lake, Illinois. It is much easier to complete with the help of an experienced attorney. At McKenna Law, PC, we can help determine the best approach to this process, so your property has all the necessary legal protections and zoning rights.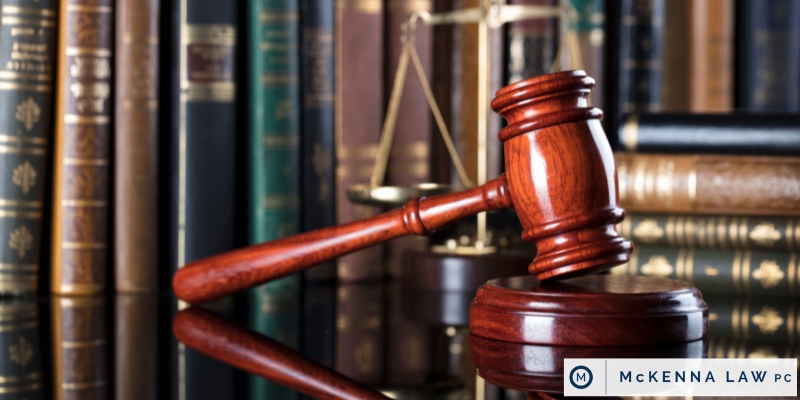 Map Amendments
Official maps include specific designations of property lines and limits, differentiating one property from another. However, if you believe a current map does not accurately reflect your property or need to verify your property lines for a construction project or zoning concern, contact our firm. An Illinois land use and zoning attorney can help you obtain a map amendment.
It may also be necessary to secure a map amendment due to natural causes. For example, violent storms and unexpected precipitation patterns could cause your property's landscape to shift, including changing elevations of flood basins and the configuration of nearby water systems. At McKenna Law, PC, we can help you determine whether recent events qualify for a map amendment and provide legal counsel as you complete this process.
Variances
Zoning laws are precise, and property owners need to follow applicable zoning laws strictly. However, it is possible to secure an exception to applicable zoning laws under certain conditions with a zoning variance. Instead of changing the zoning laws, variances allow for an exception with appropriate justification. The local zoning authority will review and approve requests for variances on a case-by-case basis.
A variance can effectively serve as a more accessible alternative to a more complex zoning reclassification. Essentially, a variance can relax applicable zoning rules for certain types of properties and property lots. Your Illinois land use and zoning lawyer can help you determine if a variance would be the most suitable solution for your property.
Conditional Use Permits
A conditional use permit is similar to a variance in that it allows an exception to applicable zoning laws to exist. However, as the name suggests, a conditional use permit requires the property owner to follow certain conditions during their continued use of the property outside of the formally recognized zoning rights.
Many property owners need to obtain conditional use permits for their commercial properties. For example, a business owner may need to obtain a conditional use permit if they plan to offer new services that change the nature of their commercial property. When considering an application for a conditional use permit, the zoning authority must look at current zoning classifications in the area, the potential for the requested conditional use of the property to create a public nuisance, and the general welfare of and plan for the community.
You are most likely to succeed in obtaining a conditional use permit for your property if you can:
Make a compelling case that proves your intended use of the property does not interfere with the general welfare of the community.
Proof that your use offers a positive impact on the community.
Working with an experienced Illinois land use and zoning attorney is an excellent way to create a compelling application for a conditional use permit.
We'll give you a realistic view of what to expect.
Zoning and land use laws can be complicated. Ordinance violations can be daunting. Just as each parcel of land is unique, each zoning matter is unique. Different zoning petitions require that specific standards be met before any relief can be granted. We will work with the County or municipality as appropriate to determine the zoning relief that suits your needs, and explain and step you through the process. We will make it a priority to put you at ease with the procedure and give you a realistic assessment of what to expect.
Our Zoning and Land Use Practice Includes:
Zoning Reclassifications and Map Amendments
Zoning reclassifications and map amendments are changes made to a property's current zoning classification to permit a desired use. They can take the form of a change in the text of the zoning ordinance or a re-draw of the boundaries shown on the zoning map.
Variances
A Variance is a deviation from or change of a specific standard set forth in the zoning ordinance within a specific zoning district when the strict enforcement of such standard would result in a greater hardship upon the property owner than the benefit gained by surrounding property owners if such standard were strictly enforced.
Conditional Use Permits
Conditional use permits allow the County or municipality to approve a specific land use that is generally compatible with other permitted uses within a particular zoning district while enabling the County or municipality to impose specific conditions or restrictions on such land use not otherwise imposed on permitted uses within the same zoning district.
Contact Our Crystal Lake Land Use and Zoning Attorneys Today
Many property owners will find navigating their communities' land use and zoning regulations challenging. However, time is often critical in obtaining zoning rights or securing approval for requested exceptions to applicable zoning laws. Our team at McKenna Law, PC, has years of experience helping clients navigate these obtuse legal issues and can apply our experience to your needs. Contact us at McKenna Law, PC, today and schedule a consultation with our team to learn more about the legal services we can provide for your land use and zoning issues in the Crystal Lake, Illinois, area.